Elucidations is an unexpected philosophy podcast produced in association with the University of Chicago and Emergent Ventures. Each month, Matt Teichman sits down with a person of philosophical interest to discuss their view on a topic. Now and again, he is joined by an awesome co-host. Some of the guests are philosophy professors, some of the guests are other kinds of professors, and some of the guests are not professors. Either way, the goal is to develop a feel for how the guest's perspective hangs together.
Music
The Elucidations theme music was written by Niko Nyman. Matt is a fan of 90s demoscene music, and Niko Nyman has written some of the best in the genre! (During that period he went by the handle Strobo.)
After a long hiatus, Niko released an awesome new EP in 2021! Here's the Spotify page for it.
Starting with Episode 131, we have been using Joe Marcus' incredible new version of the piece, produced, engineered, and performed by Joe himself on the bass.
Current Personnel
Matt Teichman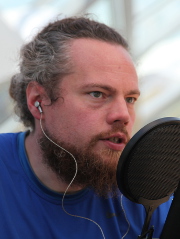 Matt is the creator, producer, and lead host of Elucidations. He did a philosophy PhD in 2015, writing a dissertation on the semantics of generic statements. It was and remains a killer topic. He also did a computer science MS in 2018, taking every available opportunity to bask in the divine light of pure, statically typed functional programming. During business hours, he programs computers at the Digital Library Development Center. Philosophical predilections include everything under the sun, but he is currently particularly excited about feminist philosophy, functional programming, and type theory.